ROUGE SARÂY is born of founder Jean-Phillipe Clermont's many years and experiences in the Middle East and his heartfelt passion for its history and culture. The perfume evokes the generous hospitality and rich imagination from the cradle of these ancient civilisations. The fragrance references ancient trade routes that spanned the arid deserts of the Arabian Peninsula or Arabia Deserta as the Romans named it. Imagine wide spaces of poetic dreaming replete with romantic tales.
Many French writers, poets and adventurers journeyed to the far reaches of the Middle East including Gary, London, Malraux, Nerval, Lamartine and Rimbaud. Their intrepid travels and escapades still inhabit and enchant our memory.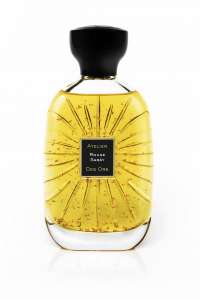 Why have we named the fragrance ROUGE SARÂY?
ROUGE (red) like the sand dunes of Wadi Rum (Jordan) caressed by the setting sun.
ROUGE to signify the Temple of Petra's ochre coloured rock. Once the Nabatean capital, Petra is situated at the confluence of all trade routes, where precious goods such as spices, incense and myrrh were exchanged.
ROUGE  to highlight the passion, hospitality, and warmth of the Middle East.
ROUGE like the amber colour of the date, the fruit of the sands, and symbol of hospitality, wealth and abundance.
ROUGE SARÂY unveils these adventures through shifting sands, and a moment of rest and contemplation at the caravanserai (from the Iranian "serai" meaning palace). An oasis of gentleness and a hospitable haven.
ROUGE SARÂY translates the romantic imaginings of adventures and tales on the ancient trade routes that traversed the Middle East. These journeys are kept alive today through the vitality of alluring spices and scents. Long considered a potent symbol of abundance and hospitality, ROUGE SARÂY sublimates the date and its fruity and fleshy aromas. Intensity and conviviality are enhanced with temptingly sweet vanilla and heliotrope.
A darkly romantic fragrance, ROUGE SARÂY is enveloped by sensual sandalwood. The smoky tonalities of guaiac wood magnify anambered temperament. An intensely addictive fragrance, capturing the feeling of exquisite indulgence and shared moments of hospitality at the caravanserai, under sheltering desert skies.